We're Open!
Open for in store shopping, click and collect and delivery.

Shop our complete range in store, or order from hundreds of items online
---
Open for in-store shopping | Click and collect available | Delivering Australia-wide
Who Are We?
Australia Sheepskins and Souvenirs is a local retailer and manufacturer based in Melbourne, Australia.
Started in Melbourne with our first shop in Coburg, we have been providing high quality ugg boots, sheepskin products and souvenirs to the community for almost two decades.
Over this time, we have gained knowledge in all things sheepskins and souvenirs related. We're passionate about helping you choose the items that are best suited to your needs, whether it be helping you choose from over dozen types of sheepskin rugs or from our range of ugg boots.
We stock a variety of products at our factory-direct retail stores. Some of the products we sell include sheepskin footwear and apparel, alpaca rugs and kangaroo skins, car seat covers, wool quilts, toys, boomerangs and specialty souvenirs.
In addition, we're a manufacturer – we handcraft many of our products at our own workshop in Melbourne. This includes our Euram Ugg brand. Being both a manufacturer and a factory-direct retailer, we are able to offer high quality products at a fraction of regular retail prices.
We invite you to browse our website. If you would like to speak to us in person, feel free to visit one of our shops or contact us. We're more than happy to help!
Our Products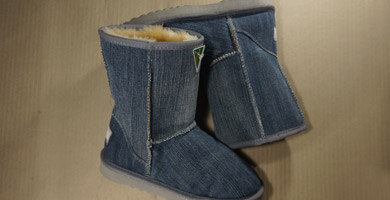 Sheepskin Ugg Boots and Slippers
We stock over a dozen brands of sheepskin ugg boots at our stores. We have a variety of classic and new season styles in an array of colours.
We're also a manufacturer, proudly hand-making our ugg boots at our factory in Australia.
Sheepskin Apparel and Souvenirs
We have a range of sheepskin clothing at Australia Sheepskins and Souvenirs. From sheepskin gloves and mittens to jackets and vests, we've got you covered! We also stock long wool rugs, sheepskin car seat covers, apparel and more! At our factory-direct stores, we provide a large variety of Australian souvenirs as well.
Euram Australia Products
Euram Ugg boots are handcrafted in Australia. We manufacture these boots with only high quality sheepskin. Our unique construction also ensures an optimal fitting. Aside from Euram Ugg, Euram Australia's other products include sheepskin gloves, hats and accessories.
Browse Our Shop
Products We Manufacture